Volunteer
Become a Glioblastoma Foundation Volunteer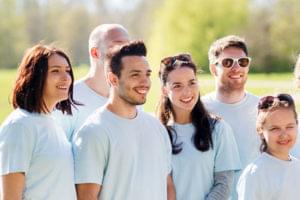 Are you passionate about finding new therapies for glioblastoma?  Do you have a friend or family member touched by Glioblastoma? There are lots of ways for you to get involved and make an impact!
Volunteer Opportunities:
Fundraise

Fundraising provides critical support to ongoing and new research endeavors that could benefit thousands of glioblastoma patients. Help pave a way to a cure by starting your own campaign! Visit our fundraising page to get started!

Share your Story

Glioblastoma is a complex disease. Each patient's tumor is different at the molecular level, so each patient's symptoms may be different—but there is much to learn from every patient's story. Share your loved one's story here and help newly diagnosed patients or caregivers of newly diagnosed patients learn from your journey.

Be an Ambassador

Are you a young adult ready to make a change in your community? Through the Glioblastoma Foundation Ambassadors program, we will guide you through different outreach events that you can be involved in to help current glioblastoma patients. If you are interested in patient outreach and would like to learn more about this program, let us know below.

Be a Community Leader

The Community Volunteer Leadership Program is perfect for older adults looking to make a difference by utilizing their network and community to host a variety of awareness and fundraising events for the Glioblastoma Foundation. If you would like to be a Community Leader, choose from any number of fundraising and outreach events or create an event of your own. Once you choose which projects you're interested in hosting, we will get back to with resources and support to help make your community project a reality.

Become a Student Volunteer

Join our student volunteer program for unique opportunities for connecting with others, learning about glioblastoma, and helping to increase awareness and funding for glioblastoma! From 5Ks to scientific inquiry, join other student volunteers who are passionate about glioblastoma and transforming therapy for this deadly disease! Get started by getting your friends together for a fun 5K. Visit the official page for the Student Volunteer 5K!

Craft for a Cause

Memory Quilt: Volunteers can engage with family members who have lost someone to glioblastoma to transform the old shirts or blankets of their loved one into a memory quilt.
Chemo Quilts: Volunteers can donate their handmade quilts or blankets, and chemo quilts will be distributed to glioblastoma patients receiving chemotherapy.
Other Memory Art: Do you have an artistic talent like painting or crafting? Use your gift to create a memory piece in tribute to a family's lost loved one.
If you are interested in volunteering, please contact us: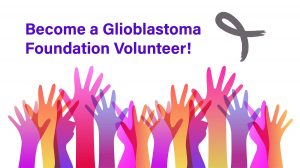 Become a Volunteer
Complete the form below to become a Glioblastoma Foundation volunteer!
You can also reach us by mail:
Glioblastoma Foundation
P.O.Box 62066
Durham, NC 27715
Email: info@glioblastomafoundation.org
Phone: 919-402-1775