2112 Tribute
2112 Tribute Fundraiser in memory of Neil Peart to benefit new research award!
Join the Glioblastoma Foundation in celebrating the life and legacy of Neil Peart! In memory of Neil and the outpouring of support by Rush fans, the Glioblastoma Foundation is proud to announce a new research initiative entitled "The Neil Peart Research Award."  The award will provide Neurosurgery residents at leading medical institutions around the country with funding to conduct new, cutting-edge glioblastoma research.
Receive a Limited-edition portrait with your donation of $21.12 toward the Neil Peart Research Award for glioblastoma!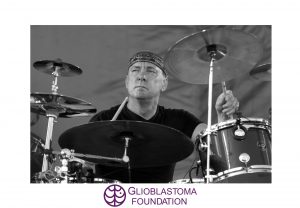 The Glioblastoma Foundation is proud to celebrate Neil's life and legacy with this limited-edition 5" x 7" portrait entitled "The Professor."  Fans donating $21.12 toward the newly established Neil Peart Research Award will receive the limited-edition print of Neil to commemorate his life and the impact his music had on so many.
All proceeds from the Neil Peart Tribute will be used to support the newly announced Neil Peart Research Award for Glioblastoma. 
Neil Peart is remembered as the lyricist and drummer for the band Rush. He is recognized by many to be one of the greatest musicians and drummers of all time. Along with his bandmates, Geddy Lee and Alex Lifeson, he was inducted into the Rock Hall of Fame in 2013. Neil passed away in January 2020 after a 3 and 1/2 year-long battle with glioblastoma. Donate today to receive your limited-edition print of Neil!
"For any Rush fan, the passing of Neil Peart was a particularly harsh loss to face. Millions of fans were stunned and impacted so greatly by his passing because he was such an amazing musician and person. The gift of art can help heal in times of loss. Thank you all for participating in this important initiative to raise awareness and funding for Glioblastoma, and a special thanks to Rush and Neil Peart for bringing such joy to so many lives!"  - Rush Fan
Don't miss your chance to help us transform glioblastoma therapy for all patients!  Donate below in memory of Neil.